Well it seems Safaree is still not over his Ex, Nicki Minaj who has moved on with her life with rapper Meek Mill after revealing all about their relationship in her album " The PinkPrint", He disses Nicki in the latest single he released ' love the Most ' which was essentially about his relationship with his Ex Nicki.
Had to watch you kiss Nas and pretend it's all cool
Inside I was feeling like a mothaf**king fool
"Yea I was mad
In our pictures you'd be smiling but inside I was feeling sad
Did the good outweigh the bad or did the bad outweigh the good?
You ain't do it all alone, we took ourselves up out the hood."
"Ion care about the wealth. I ain't care about your fame
I ain't care about the flawless VVS's in your chain.
I ain't saying I'm the best no-one will love you like I did.
12 years up in flames thought you would've had my kid.
Year three got engaged now we moving out of rage.
I ain't never think our book would've ended up on this page."
Yeah I know I'm not perfect you was paying all the bills.
You remember what you told me when you wasn't on them pills?"
He also hinted that her relationship with Meek started when they were still together, clearly he is still hurt.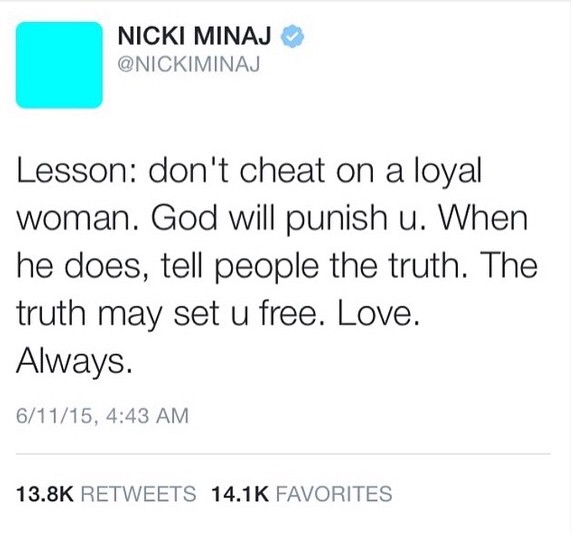 Lol, I guess the last tweet was a rap